A 13 Days Trip in Yunnan - Two
Day 5
We had to say "bye bye" to Dali and set forward to our next destination Lijiang. Considering of our future arrangement, we didn't climb the Mt.Cang. It's a pity but also an excuse for us to come here again. We got on the bus from Dali to Lijiang on 10:00. It cost 50 RMB per person and took 3 hours to reach Lijiang.
Tip: If you have car sickness, you can go from Dali to Lijiang by train.
After we reached Lijiang Bus Station, we took No.8 bus to the Lijiang Ancient Town. My boyfriend and I visited five hostels and finally chose Lijiang Hostel. 100 RMB per night, acceptable! It is a wooden structured hostel. But what attracted me most was the skylight. Lying on the bed, I could watch the stars in the sky. Really romantic!
We still had three hours to see the town before the sun set. My boyfriend suggested we visit the Black Dragon Pool. The locals told us the water in the pool was decreasing year by year because of the draught. Standing here, we could see the Jade Dragon Snow Mountain in distance.
Tip: Tourists who visit the Black Dragon Pool and the Jade Dragon Snow Mountain have to pay for the ancient town maintenance fee excluding the entrance tickets. It costs 80 RMB per person.
Day 6
We got everything ready and left for Shuhe Ancient Town nearly 10:00. Don't worry! Lijiang Ancient Town wasn't far from the Shuhe Ancient Town. No.18 bus took us to Shuhe.
Tip: Individual visitors can visit the Shuhe Ancient Town for free. Group and self-driving visitors have to buy the entrance tickets. There are some people who guard at the entrance to the Shuhe Ancient Town. They might stop you and say they can bring you into the town via some secret lanes. Don't believe them. Just walk in if you are solo traveler.
Before we returned to Lijiang Ancient Town, my boyfriend took me to a local market. There we found a restaurant and had two bowls of rice noodles. Very delicious!
Tip: We really don't suggest dining inside the Lijiang Ancient Town. Foods there are expensive and plain. Just ask the locals where they dine and then dine with them. But if you are concerned about the hygienic conditions, you might reconsider my suggestion.
My boyfriend and I rearranged our itinerary and decided to visit Lugu Lake tomorrow. We contacted a driver and he promised to pick up at 08:00 tomorrow.
Tip: You have two choices if you go from Lijiang to Lugu Lake. First, take state-owned long distance bus. It stops at Daluoshui Village. The ticket is about 75 RMB. If you plan to visit Lige Peninsula, then you need to hire a car from the village. Second, take private tourism bus. It stops at Lige Peninsula. However, the driver drives you to some shops on the way but won't force you to buy those useless souvenirs. And it stops at Liwubi Island for an hour. Some tourists might get off and go boating. If you can't wait, you can hire a car to Lige Peninsula.
Day 7
The driver kept his promise and picked us up at the entrance of the Lijiang Ancient Town. He told us that he stopped at two places where we could take some photos. Very nice! Thanks to him, we took some photos of the curving mountain road and Jinsha River.
When we arrived at Ninglang county, the driver stopped in front of a restaurant and told us that we could have lunch here. The dishes were made already. Frankly speaking, they tasted ok.
Our bus arrived at the entrance of the Lugu Lake nearly 13:00. The driver told us to get off and buy the entrance tickets. It cost 100 RMB per person. Then he drove us to the viewing platform where we could have a panoramic view of the Lugu Lake. There we took some photos and the driver introduced us some information about Mosuo people. According to him, Mosuo people just have verbal language but can't write characters.
When we got to Daluoshui Village, some passengers went off the bus for boating. As I said, we had to wait them for an hour here. My boyfriend and I didn't want to waste an hour here. Thus, we hired a van with other six passengers. The driver promised to take us to Lige Peninsular if we paid 70 RMB. After we arrived at Lige Village, we started to find a place to sleep. We asked many hostels whether they had vacant rooms but got the same answer "NO". My boyfriend regretted that we didn't book one in advance. At last, we found a hostel. It cost 200 RMB per night. Lucky us!
The hostels are mainly located at the entrance to Lige Village, Lige Bay and Lige Peninsular. Those built at the entrance of the Lige Village are the much cheaper than those on the Lige Peninsular. However, they are a bit far from the Lugu Lake.
There are just several hostels in the Lige Bay. Tourists seldom accommodate in those hotels. They choose either those near the entrance to the Lige Village or those located on the Lige Peninsular.
To be honest, the best hostels are located on the Lige Peninsular. Standing one the balcony, tourists can appreciate the Lugu Lake in close distance. As a result, it is too costly to sleep here. Forgot to say, the most representative one is Bi Aan.
We put our luggage in the room and went out for fun. Seen from the dock, the water and the sky seem to merge in one color. Very beautiful! It is said that the average depth of the water of Lugu Lake is 45 meters. Thanks to the good weather, we could have a visibility of 11 meters today.
Happy time flies so fast. It's getting dark now. We entered a restaurant for dinner and then went back to our room. Why didn't we experience the night life? My boyfriend and I planned to have a bike tour around the lake and take some pictures of the early sunrise.
Day 8
The sun rises around 7:20 am in the Lige Village. I saw some peculiar boats named as Pig Trough Boat by locals. I asked my boyfriend if we could appreciate the sunrise by boat. He agreed. We paid 20 RMB and the boatman took us to a small island. There we waited for the sunrise. We realized that we were not the only people who came here. More and more tourists came here by boat. like us, they brought their cameras to shoot pictures of the sunrise.
The sun rose very quickly. We just took four pictures and then went back to the dock by boat. Then we had breakfast at our hostel and came out to rent bikes. Easy! We paid 50 RMB for two mountain bikes.
Lige Viewing Platform is our first stop. Tourists can have a panoramic view of the Lige Peninsular from here. Also it's the best location to take a picture of the Lige Peninsular.
The road condition around the Lugu Lake is worse. The road itself is curving, narrow and bumpy and there is no separate bike route. Tourists who ride bikes should be very careful, especially when riding on the downhill road. We saw a boy riding too fast on the downhill road. Suddenly, a car appeared on the road. He couldn't slow the speed immediately. In order to avoid the car, he turned right and hit against guardrail. Luckily, he didn't get himself killed.
When we reached Lugu Lake Town, we found a noodle restaurant and ordered two bowls of beef noodles. Delicious! My boyfriend said it tasted ok but not delicious. Maybe, I was so hungry that I thought everything was delicious as long as it was edible. After we finished, we asked the boss how to go to Xujiawan. He said we already passed by Xujiawan. So we rode back to Zhaojiawan and had some fun there. Then we kept on riding and reached the Caohai (Sea of Weeds).
In fact, we didn't spend much time in Caohai. We wasted too much time on previous sites. It was over 18:00 after we visited Caohai. No matter how late it was, we had to get back before the dark. So we finished visiting Caohai quickly and started to ride back. It was totally dark when we arrived at Daluoshui Village. It's still 12 kilometers from Daluoshui to Lige. We discussed and then decide to hire a bus. It was too dangerous to ride in the evening and I felt very tired.
Then we found a car at Daluoshui Village and brought us back to Lige Peninsular. It cost us 60 RMB. It was past 21:00 when we arrived. What a wonderful experience! If we also hired a car like other travelers, we would have had such an opportunity to have a close contact with the Lugu Lake.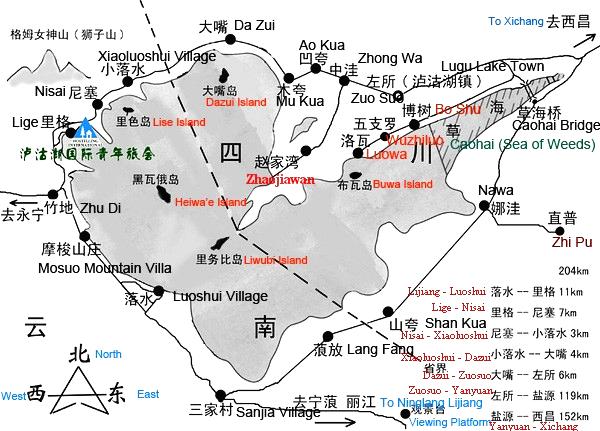 Riding Route