The Price of Sunshine
Open Your Wallet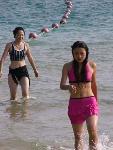 Morning on Dadonghai Beach was glorious, and there were many tourists out on the sand enjoying it. The bright light on the little crescent of ocean encircled by the bay sparkled with an otherworldly brilliance, as if to underscore the fact that this place seemed like something out of a fantasy world. For the many visitors to Dadonghai and to Sanya itself, this destination is indeed something of an escape from reality – a holiday from monotonous lives led in less enchanting places. Here, China offers a glimpse of what it might be like to live in luxury.

Of course, luxury costs – and it was in Sanya that I really began to feel the limitations of budget travel. I was staying in a very price-conscious hotel, and the beach was free – the other tourists around me were clearly paying through the nose for almost the same thing I was enjoying for next to nothing, and so I should have felt quite satisfied. The thing is, wealthy people don't really come to places like these just to lie on the sand, no matter what they say – otherwise they'd just do the same thing I was doing and save their money. These people were coming for all the other things you find in these kinds of resorts – blowing their cash on trinkets, expensive drinks and choice seafood extravaganzas. Merchants looked at me sideways when I shook my head at everything they had to offer – in other parts of China, the merchants know well you may not want what they're selling and are desperate to convince you to buy it anyway – here, they know everyone wants to buy something, and can't understand what you're doing there if you don't.

Even I myself was starting to get tired of my own reluctance to part with cash. I would wander past scores of tourist restaurants looking for cheap, monotonous food; I'd forego as many luxuries as possible, and the result was that I found myself in the middle of a city that was practically an amusement park, and I wasn't having any fun.

I waited at the side of the road at Dadonghai waiting for a bus to the next destination I wanted to check out – Sanya's famous Yalong Bay – but I was growing tired under the heat, and annoyed by each cool, air-conditioned taxi that stopped every few minutes to tempt me to take their car for about six times more than I knew the bus ticket cost. The taxi drivers were very persistent, but I held out until the route 102 tourist bus stopped at the station, and I got on board for the expected RMB5.

I was lucky to get the double decker bus I had – most of the route 102 busses are very crowded minivans. But even as I sat at a table on the top deck of the bus, I watched other tourists – hundreds of them – pass my bus in those cool, blue VW taxis, not at all worrying about the money they were going through. Strangely, I, who was spending so relatively little, was worrying about it much more than those who were flushing it away.
Yalong Bay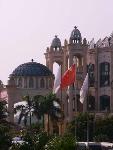 The bus motored along the curling roads winding around Sanya's eastern coastline, offering views of densely forested mountainsides and wide pasturelands planted with rice. A large, inviting sign at the turnoff read 'Yalong Bay National Resort', and we turned in towards the sea. Before long we were inside.

Before we got to the beach area proper, we passed a great number of plush houses – some belonged to hotels which rented out individual luxury units, others were the abodes of China's wealthy homeowners who had purchased the right to live this kind of lifestyle forever. As we chugged past them we were forced to pull aside as a long motorcade passed our bus, sirens warning the approach of someone evidently high up in government, on his way to sunbathing somewhere in some private cove.

The bus stopped in front of a very unusual looking hotel – I'd seen it in tour agency promotional photographs. Claiming to be the only African-themed hotel in China, it has been decorated to look like a sultan's palace, with great arches all around a central dome in the shape of gigantic elephant's tusks.

I passed a row of stalls made of woven cane selling pearl and shell jewelry and bracelets of jade – from the prices they were asking I could tell that this was another playground of the significantly rich. My guess was confirmed as soon as I got to the beachfront – although less developed than Dadonghai, Yalong Bay is much larger and busier, and there seems to be a lot more to do. A service counter presented tourists with a staggering array of sea-based activities at high prices. I counted Banana Boating (RMB80), Motor Boating (RMB180), Paragliding (RMB320), Surfbiking (RMB120 for 15 minutes), Underwater Seawalking (RMB200), Vitreous Boat Sightseeing (RMB150), Submarine Motorcycling (RMB380), Glassbottom Boat Underwater Sightseeing (RMB200) and Coral Diving (RMB330) amongst the list of activities. It all seemed like a lot of fun, but unfortunately about all I could afford to do was the swimming (Free) – but without a pair of swimming shorts I was doomed to remain dry for the afternoon.

Everybody else – from the inherently wealthy to the couples who had saved for months for this holiday – was having a great time in the bay that calls itself the Oriental Hawaii. I walked through crowds of a few hundred people, all in swimwear or those annoying Hawaiian print pyjamas, sipping expensive coconut juice and beers, sitting at tables dripping with seawater from their adventures in the ocean. I stood next to a massage tent where chubby men were lounging about on deck chairs like reclining Buddhas, and was approached by the proprietor. "Would you like a massage sir?", he asked me, going on to extol the virtues of a healthy, relaxing body rub. I declined. "Drink? Something to eat? Some fruit perhaps?" No, I said, I was just here to have a look around. "Perhaps sir might like to look around somewhere else", he said icily and turned back towards his tent. I moved along.

I wandered around reading the signs proclaiming the wonders of the resort – the amazing, colourful underwater world and coral gardens with hundreds of colourful species of underwater life, small elegant islets boasting aquatic tours, diverse beach entertainments and even simple rows of large sun umbrellas for hire to lie beneath and look out at the sea. I read of the fabulous developments funded by investments by China's Huandao Group – a tropical ocean zoo, an ocean museum, an amusement city, a holiday village, an offshore fishing platform, snorkeling sites... it was all terribly exciting. I took one more look at the crystalline blue waters, turned around, and headed back for the bus.
Sanya City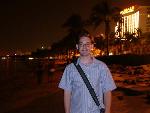 Jenna was an Indonesian Huaqiao Chinese girl who happened to be sitting next to me on the bus back towards Dadonghai. She was traveling by herself in Hainan too and had spent the whole morning swimming at Yalong Bay, having had a much better time than I was having. I told her how worried I was becoming with the expense of Sanya, and she agreed – but she told me that she had to admit that the Yalong Bay beach was much nicer than some of the other coastlines around the city, some of which are a little dirty from city litter.

She suggested a visit to the central city area for a walk around, and I agreed – and so we skipped the Dadonghai station and continued on the the centre of town.

Sanya is unusual in that it is constructed on a double peninsula, meaning the town is divided by two rivers, and therefore sits in three separate sections in the central districts. The positive side is that this means that nowhere in the city is far away from the water, and visitors can wander along the riversides and seafront with relative ease. We decided to have dinner and then take a walk ourselves along Sanya's most attractive sea front – called the "Long Coconut Walk" where a massive and quiet stretch of beach looks out to the South China Sea, and holidaymakers can stroll – quite romantically, I should say – beneath the coconut trees.

After eating, we walked in the direction we thought the beach would be, but I'd misread my map and after 15 minutes of walking in the wrong direction, we discovered my error and I offered to pay for a cyclo to take us back. A strong looking woman with a bumpy pedal cart pulled up and quoted us the price of five yuan – and so we sat up and chatted happily as she urged the bike slowly ahead for the coast. We took a quick detour along the bumpy railside when she spotted a police car – and lamented the bitter life she led, working with her muscles for such little money.

We arrived at the beautiful beach front and got off to enjoy our walk in the evening half-light – our driver charged us ten yuan – ten?

"Five yuan – per person."

It seems that in Sanya, paying more than you expect is inevitable.

More
Sanya Travel Reviews