Chengdu, a blossoming peony in China
Chengdu, a blossoming peony flower in China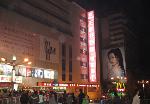 Chengdu, a beautiful and idyllic city which is the capital city of Sichuan Province, has been endowed with a poetic name----"the city of Rong". "Rong" is the abbreviation of peony in ancient China. Peony, which is almost treated as a national flower by Chinese people, is regarded as a symbol of wealthy in China. So that is why Chengdu city turns up to be the most perfect metropolitan in Chinese people's dream. A great number of cultural celebrities once had leaved over many romantic poems in this heavenly paradise.

The warm and humid weather, the leisurely urban life, the elegant tea attics and the alluring maidens all become a reason to let you remain here.

After 2,700 years' weather storming, Chengdu still looked very young and very elusory. Sits in the northwest of China with 11 million populations, Chengdu was entitled with a name "A kingdom in the heaven" long days ago. Not so much sunshine but so much haze and moisture air does a people will happen to encounter all years around. So most local habitations are very keen on spicy food in avoid of dampness. Wherever the restaurant you go in Chengdu, the hot and chilly dishes you will always enjoy.

On December 13, 2006, I am happened to join a travel group to Chengdu composed by our company. I have expected the city tour for a long time. Just arriving in Chengdu, we began to meander on a business street----Chunxi Road. It is the most bustling street in downtown area. A lot of sparkling neon lamps dotted with many of a shopping stores. Along the western-style gate, a great variety of luxuriant goods are displayed in glass windows. Only about two weeks before the Christmas Day arriving, the teams of young couples have been simmered into the festivals' atmosphere. From a point of my view, Chunxi Road is just like a shinning decorated boat voyaging in an endless night. What a modernized and fashionable city is! Chengdu also had received many exotic cultures in the past 100 years. Like in Shanghai, the people's ideology becomes more and more unrestrained and bolded; a large quantity of people immigrated into Chengdu accompanying with the fresh thinking. The skyscrapers seem to tell people that it is not only a paradise for enjoyment but also a world for adventure.

But even when you are strolling on the busy streets, you would never fell about a busy life around yourself. Chengdu is a very easygoing city in China; almost none of the residents here are arrested by earning their lives. By the time we felt a little tried after walking, someone supposed us to have a rest in a tea house. Entering into a temple—Wenshu Temple, layers and layers of bamboo chairs occupied the courtyard. Whenever you come, on weekend or Monday, hundred of seats are always taken up by tea guests. They often pick up a table and ask for a bowl of tea; the fragrant green tea ripples in blue-glazed porcelain bowls. Upon the times, a waiter will come over to fill up your emptied bowl; just behind your seat, an elder man is telling a historical story on a small-size platform. Unconsciously, your soul will inhabit on those classic and elegant attics in a melodiously birds' twittering.

Maybe it is of a Chengdu people's nature that they don't want to full their life of much intensity. On contrary, they always think that "The life is a working and the working is also a life." So their working life has often been accomplished by the tea breaks. They know how to enjoy their wonderful life and so they can know how to make their life better.

To mention about Chengdu, people normally think of a kind of plant—bamboo. In a deep valley, the dark green bamboo, reaching out of your sight, brightly dance with their gentle branches. It is a very good environment for bamboo's breeding. All over the mountains in Sichuan Province are often covered with bamboo forest. So you can find that the local residential houses are mostly made of bamboo; their tables, bed, chairs and other furniture are made of bamboo too. Thus is why Sichuan becomes the cradle of panda. Wolong Natural Reservation Zone in Sichuan Province has been regarded as a hometown of panda in China. Millions of people in the world come here to visit the rare pandas every year. So a great variety of bamboo trees you can see around Sichuan.

Generally speaking, Chengdu is one of the best cities for your traveling China. You will still like to linger on this vast and glamour land even after your many times' touching with here. The hosted local people would welcome you to Chengdu for ever.