Hiking from Jinshanling to Simatai
Half a month ago, I decided to spend the weekends in Beijing on the Great Wall. It turned out be the Jinshanling-Simatai Great Wall which attracted me a lot. Compared to Badaling, and Mutianyu, this section was less crowded. Just a few tourists could finish the hike between Jinshanling and Simatai. Here I would like to share some tips on such tour based on my experience.
Transportation:
There are two ways to reach Gubeikou:
1. Take train (2 departures in 1 day) from Beijing North Railway Station (next to Xizhimen Subway Station) to Gubeikou. Note that Gubeikou Railway Station has been deserted, so ticket to Gubeikou is not available any more. Purchase tickets to Huairou North for 7RMB to get aboard. After you are in the train, train attendant will come over to check the tickets, at that time you should give 4.5RMB more to reach Gubeikou. The journey takes about 4 hours.
2. Take bus no. 980 to Miyun from Dongzhimen Bus Station. The bus fare is 15RMB and the estimated journey time is one and a half hour. Make a transfer in Miyun to Gubeikou by bus, which leaves every hour and runs for 2 hours for the full trip. Those who can not catch the train can take bus. The total journey time does not vary a lot from each other. But there are more departures for buses, so it will be more flexible to take bus.
Back from Simatai:
Buses back from Simatai to Miyun run for 2 departures at 13:40 and 16:00. The bus fare is 6RMB. The fast bus takes about 1.5 hours. If it is on weekends, there may be crowds of tourists so that you are unable to get on bus. So take a taxi or charter a van, which will cost about 25 per head to Miyun.
I remember that the last 980 bus from Miyun back to Dongzhimen leaves at 18:30 at a cost of 15RMB within 2 hours for sure. Check before you use this way of transport.
Accommodation:
We were in a farm house of uncle Xu in Hexi Village. It cost us 45RMB for two meals. And if for three meals a day, 10RMB more is paid. It cost us 50RMB for one van from Uncle Xu farm house to Jinshanling Great Wall.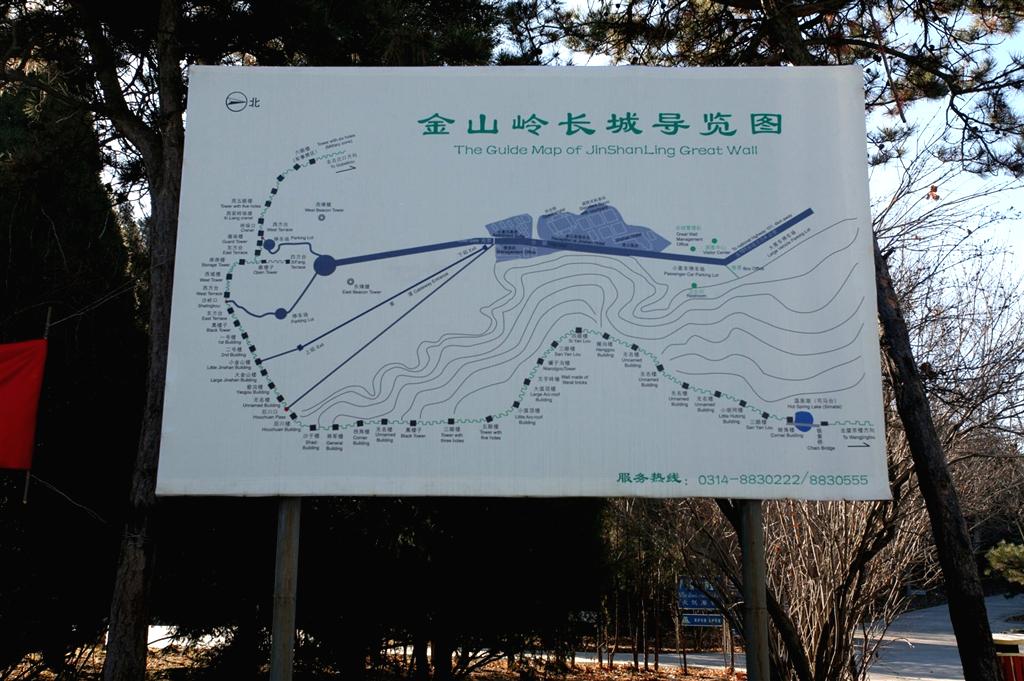 Jinshanling Tour Map
Hiking:
Generally speaking, tourists get up at 06:00, have breakfast at 06:30 and then set out at 07:00 if they are hiking from Jinshanling to Simatai. It takes about 20mins to get from Uncle Xu farm house to Jinshanling Great Wall.
Jinshanling and Simatai are all safe and easy to walk after the restoration work. The section that connects the eastern Jinshanling and Simatai Great Wall has not been restored yet without any safety problems. The single wall, heaven ladder, heaven bridge as well as some other dangerous sections after the 12th beacon tower of Simatai are all blocked and closed to public.
Simatai Great Wall has two parts, east and west sections with a suspension bridge in center.
From Jinshanling battlement to Simatai west ticketing office: 3.5 hours
From Simatai west ticketing office to suspension bridge: 1 hour
From suspension bridge to the dividing line of east and west section: half an hour
Return trip between the dividing line of east and west section to the 12th beacon tower of the east section: 3 hours
From the dividing line of east and west section to the parking lot: 15mins or so
We were slow and it took us more than 8 hours to finish the whole hiking. And it was almost 16:00 when we were at the parking lot to return.