arouse your appetite
general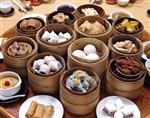 Chengdu is nationally famous for its local delicacies. They are various in taste and style which have never failed to attract travelers. There are spicy dishes waiting for you to come and challenge. But never worried. There are many sweeties as well to easy your pain from spicy food.
If you go to the right place at the right time, you could enjoy a wonderful appetite travel which also give you a close look of the life style in Chengdu.
When comes to the price issue, it depends on where you have your meal at. It could range from RMB5 per person per meal from RMB100 or more. There are many famous eateries (some of them hid in alleys) and lots of big restaurants for you to choose.