A Visit to Mutianyu Great Wall
For many times, I've heard the Chinese saying: 'He who does not reach the Great Wall is not a true man.' So to be a true man, I went to the Great Wall while on a business two years ago. Told by my colleagues that Badaling was always crowded with tourists while Simatai was too wild and the transportation was inconvenient, I took their advice to Mutianyu which was neither wild nor crowded.
Since I was accompanied by one of my kind-hearted colleagues and he drove me there, it did not take me too much time on the preparation or on the way there. Go without saying, the first thing to do after arriving was getting the ticket. The ticket there was very special. It was not one-on-one, but one-on-group, which meant one ticket for one group, and the unit-price and number of people were printed on the ticket. It didn't matter how many were there in the group. It was interesting but also regretful for those who did not have a ticket as a memento. Luckily, there were only two of us and my colleague gave it to me.
There were north and south ways to climb the wall as well as a slide way. One can also go up by cable car. In addition, there were all together 20 watch-towers opened to the tourists, No.1-No.20 from east to west. Didn't want to be a 'FAKE' true man, we chose the south way to climb up. From the signboards along the road, we had finished 1,000 stairs while arriving just at No.6 watcher-tower. Oh, God! It was so tiring but it worsted it. The scenery there was already very amazing.
Beautiful Great Wall Scenery
To spare more time and energy on sightseeing, I suggest my colleague slowing down after. It was a wise decision coz the road after was very steep and some stairs were rather high. Besides, there were no places to have a rest except the watch-towers. There were wind there, very cool.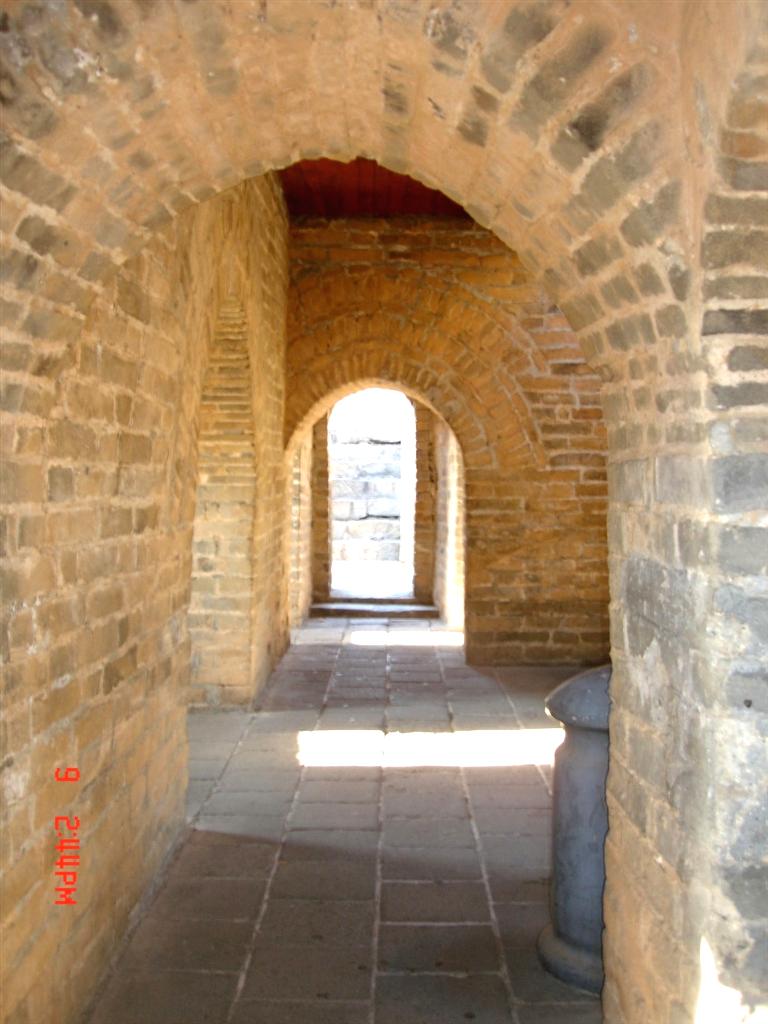 Inside the Great Wall
The most difficult part was climbing at the midday, when the sun was shinning strongly and we had to go up and down, up and down and up and down… Arriving at No.19 watch-tower and looking up, the road to No.20 watch-tower was even more stepper and longer. But encouraged by the final goal, I kept climbing after a short break. Here I want to mention an episode. While I was climbing the final part to No.20 watch-tower, a lovely little boy and his father had already finished climbing and were going down. The little boy seemed so tired and kept talking to his father: "I want to have a break." But the father encouraged him: "You can make it." When we were just going to passing by them, this boy suddenly gave up and sat down. The father did not know what to do with him and glanced at me with a smile. Then he said to the son, pointing at me: "If he can make it, then you can." I was so sad. Was I that old just because I got grey hair? But to encourage the little boy, I said loudly: "Yes, I can." Maybe he did not want to lose to such an old man, the boy stand up and kept going, full of passion. Funny little thing.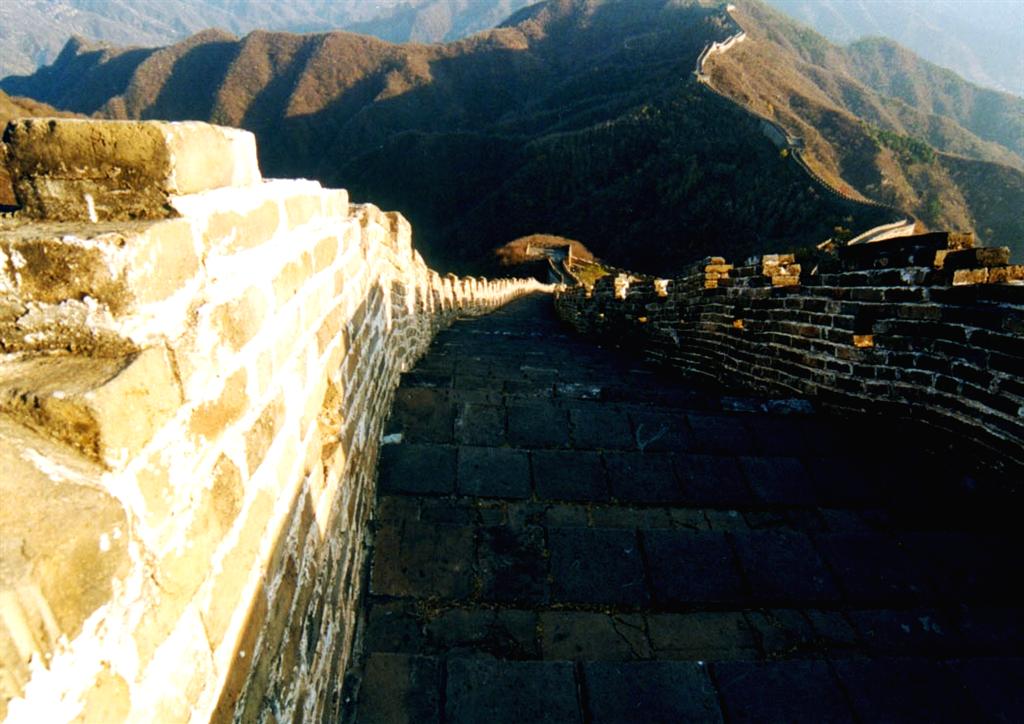 Time to Back, Still Long Way to Go
Although exhausted that day, I was very satisfied to visit this great and grand Great Wall. Thinking about the ancient people built it all by hand; one would be shocked to speechless. In the near future, I am going to retire from work and currently thinking about going to China again with my wife. Hopefully, we will go to some other sections of the Great Wall.