Beautiful Red Leaves Contrasting with Great Wall
Great News! Great News! The leaves in Badaling National Forest Park have turned red and it is so amazingly beautiful. Although the park is not within the Badaling Great Wall scenic area, one can see the wild walls from the park as well. Not only the wild walls, but the walls contrasting finely with the red leaves, which I personally think is more beautiful and attractive. I strongly suggest those who are in Beijing to take the chance to enjoy the scene. See my photos…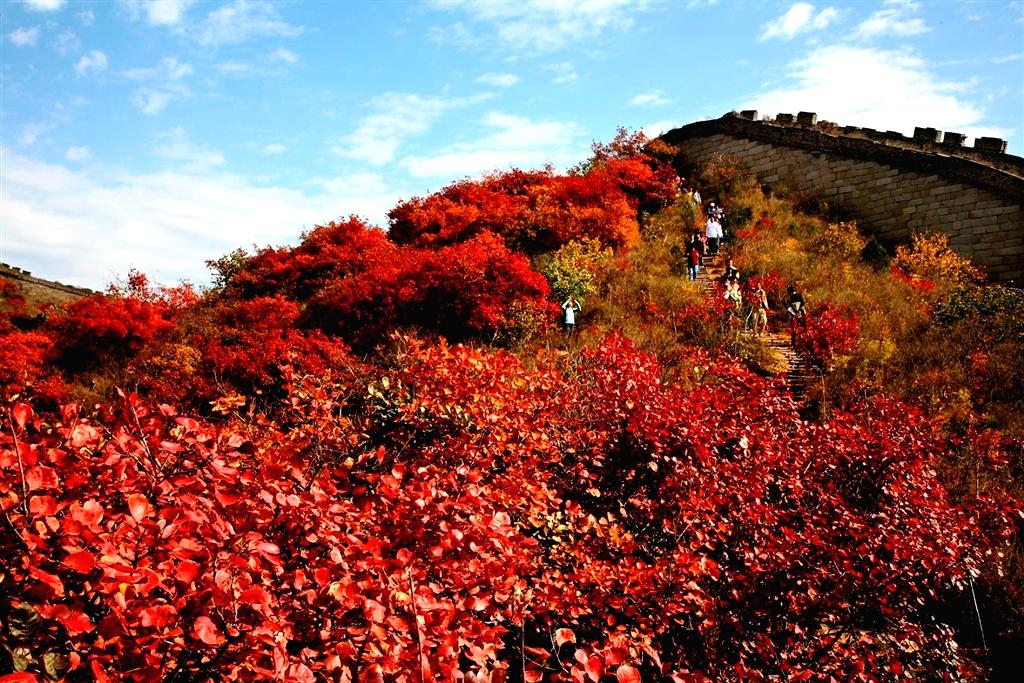 red leaves contrasting with the wild walls
There are fours features of the red leaves in Badaling National Forest Park as I was told: 1) the most colorful. There are three reasons: The trees are in the prime of their lives; the temperature in Badaling is lower and the temperature difference is large, which makes it easier for the forming of the color; the air is clean and the leaves can be totally preserved. 2) The earliest to turn red, because the park is in a higher ground with lower temp. It is about half a month earlier than the down Beijing. 3) The wildest, for the red leaves contrasting with the wild walls, which makes it a unique scene. 4) The closet to admire the leaves. One can not only see the leaves at a distance, but also see them within no distance. Besides, the trees are not in a very high ground and it's not that tiring to climb the mountain there. I don't know if it's true that the leaves are most colorful in Beijing, but they really are beautiful. Anyway, I do not regret going.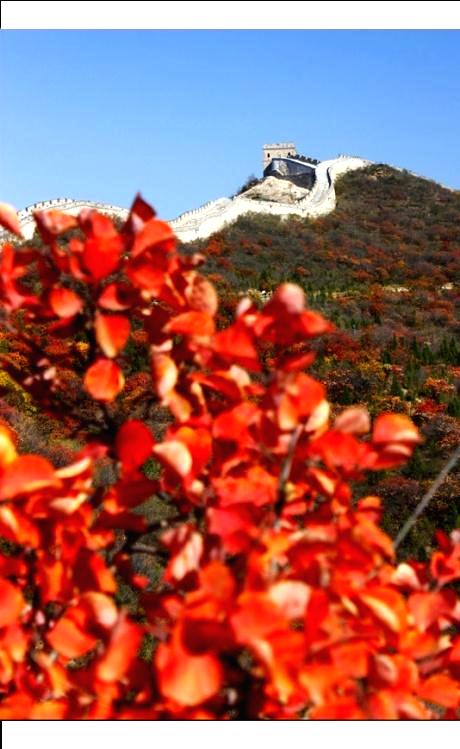 another one with walls and red leaves
If you want to go there, here is the transportation. You can take bus no. 919 from Deshengmen to Badaling National Forest Park. The bus is different from the one to Badaling Great Wall; make sure you board on the right one. Also, the bus departs from 07:00-12:00 every 30 minutes. If it is the peak hours, the bus will depart once fully occupied. From the park to Deshengmen, the bus leaves from 10:00-15:00.
You can also take a train from Beijing North Railway Station to Badaling station, and then take the shuttle bus to the park. The train leaves at 09:33 and 13:19 every day from Beijing. From Friday to Sunday, there is one more train leaving at 07:44.