Differences between Badaling and Mutianyu
I myself have been to both of these two sites and want to share some of my experiences with you guys.

Of course Badaling Great Wall is the most famous among all China Great Wall sections, but it is also crowded, especially during the holidays. For those don't like crowds, Mutianyu Great Wall which receives fewer tourists is definitely a better choice for a Great Wall tour. Just like Badaling, it is also equipped with cable cars and pulleys, either open-air or enclosed.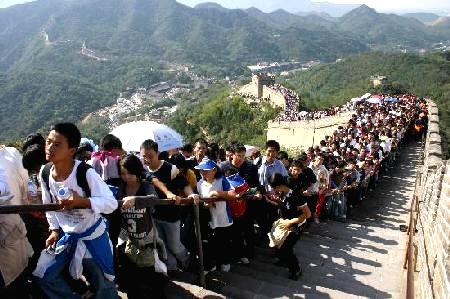 Crowds on Badaling Great Wall

While Badaling is better-preserved, Mutianyu gave me a feeling of wildness; while Badaling is more famous, Mutianyu offered an easier tour. All in all, no much difference between Badaling and Mutianyu scenery except the transportation to reach them.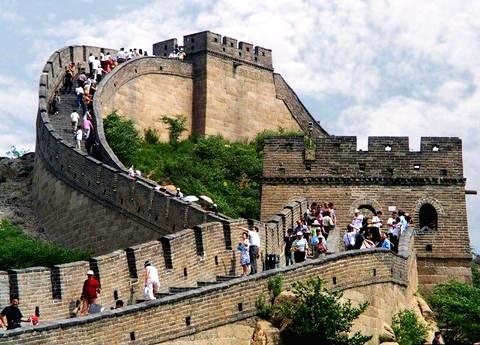 Badaling Great Wall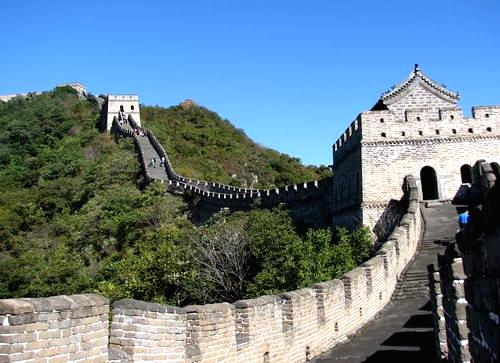 This is Mutianyu

There is direct transportation between downtown Beijing and Badaling, so is Mutianyu. But only buses are available, that's tourism bus 936 departing from Dongzhimen of Beijng. I was luckily to take one of them to Mutianyu directly. The thing is tourism bus 936 only operates during high seasons, seemingly from 03/15-11/25. The other time (low-season), it will run from downtown Beijing to a skiing resort in suburban Beijing. Another problem is that there are not as many tourism buses 936 as 919 to Badaling. As I know, only three on weekends (0700, 0800 and 0900) and two during work days (0700 and 0800). You'd better make a confirmation of the timetable beforehand. Although there are fewer direct buses running between downtown Beijing and Mutianyu, it can also be convenient if you make a plan carefully.

Definitely there are other ways to Mutianyu except tourism bus 936. But I think it difficult for a 'foreigner', for a transfer to a private car is needed which I think is inconvenient and one might get cheated. Well, in this way, when the tourism bus 936 does operate, Badaling is the better choice. It should receive fewer tourists like other attraction sites in the low-seasons.

In short, I recommend Mutianyu in high-seasons and Badaling in low-seasons. Just some personal thinking and good luck with those travel fans to the Great Wall of China:)