Mutianyu is a Nice Place
I vacillated for a long time between Badaling and Mutianyu before the trip. But after observing that there were many one-day tours to Badaling, I chose Mutianyu, for I was kind of frightened by the crowds on those touristy sites.
Mutianyu was located in Huairou, a little further than Badaling. From this website, I got to know that visitors could reach Mutianyu by tourism bus 936 directly from Dongzhimen; or take bus 916 to Huairou first and then charter a taxi to the Wall. Furthermore, I read some travel reviews and decided to transfer at Huairou. Because someone said the tourism bus could take as long as 2.5-3 hours. What's more, it didn't operate during the off-seasons.
It turned out to be a right decision. There were many bus916 and I didn't wait long. The drop-off stop seemed to be the center of Huairou. There were KFC, Mcdonald's, snack-bars and big supermarket nearby. Upon getting off the bus, a sudden surge of bodies came close and shouted "Great Wall, Great Wall…" But I found a few mini-buses going to somewhere with a stop at the Wall. I took it, rmb10 per one. But it only departed with about 10 passengers and stopped quite often. So when coming back, I chartered a van, which was only rmb30. Maybe you could share it with others if traveling there.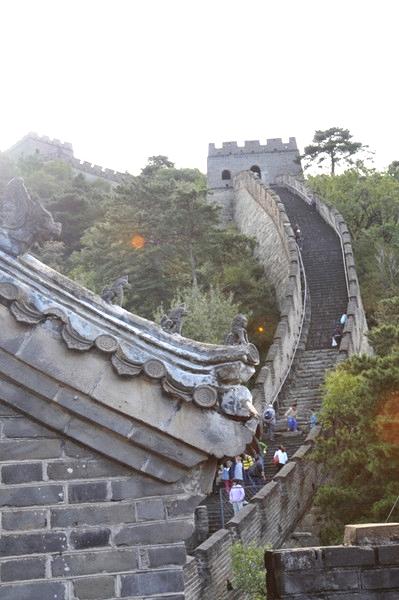 Mutianyu Great Wall
The foot of Mutianyu was the retailers' world. I just ignored them and headed for the Wall. There were more than one entrance and I chose the middle one. The road on the wall was not steep and the steps were well-built. There were trees on both sides of the wall and towers between walls, where I could have a rest if feeling tired. I took a lot of photos while climbing. Maybe it was because of the transportation, there were not too many visitors. In that case, I could took some photos without passers-by in and enjoy the scenery freely. I approached imperceptibly the end of the developed wall. The other side was wild, covered by grass, broken bricks and stones. Luckily, I could appreciate the scenery again while coming down.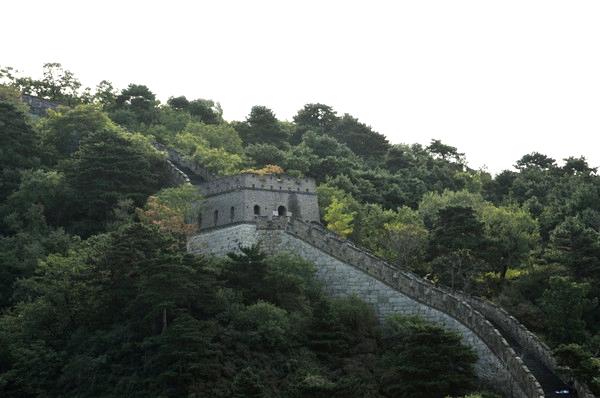 Mutianyu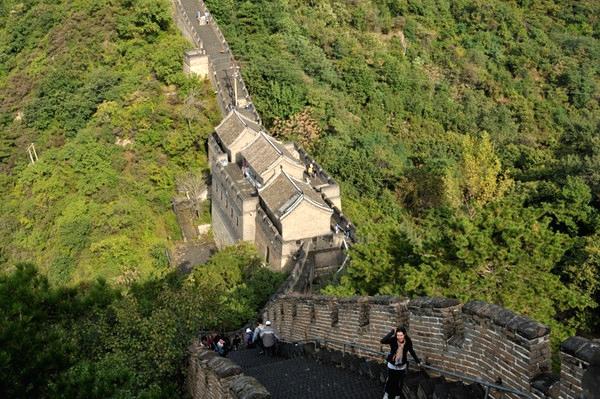 Mutianyu
In short, there were not too many visitors on Mutianyu, at least it was not as crowded as Badaling, which I saw from the pictures. Also, the developed section was well-repaired and it was not so difficult to climb it. However, it didn't mean it was not tiring to climb it. You'd better arrange it in the last days if traveling to Beijing.