My Shenzhen Trip
I have traveled to Shenzhen once, but just as a passer-by when transferring to Hong Kong. But this time, I left enough time and got well-prepared, for I didn't want to feel regretful someday.
First Stop: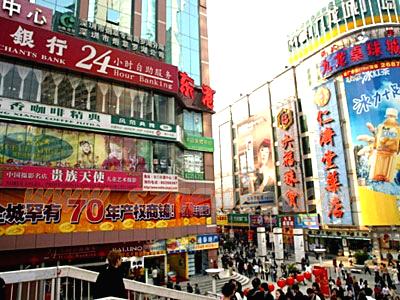 Dongmen Pedestrian Street
This was said to be the No.1 shopping center of Shenzhen. I doubted if I visited it alone, I would like being an ant losing its feelers, creeping around desperately. There are so many visitors and stuff here. One could find anything wanted. I spent a whole afternoon there excitedly, a whole afternoon without sitting down or breaking for even seconds. On one hand, I was totally attracted by various and fashionable products, which made the time pass by so fast. On the other hand, we got lost so easily and were always looking for road.
Second Stop: Happy Valley
I had to admit that it had a very good name, a name making the place exciting already. The four-dimensional movie was cool although the water sprayed out was not that nice. But the feeling given by modern technology was special and amazing. The Spirited Space was so terrifying like the hell. If there was a hell and the hell was that horrible, I sworn I wouldn't do any bad thing ever after. I was timid, which I admitted, so I gave up the Top Spin and other adventurous activities. Hearing the sharp cry overhead had already made my fresh creep, let along did it myself. So I mostly spent time in watching the great performances.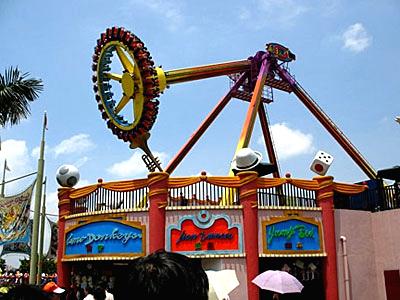 Happy Valley
Third Stop: Window of the World
We went there at night when the beer festival was held. We headed for it directly after getting the tickets. But I was a little disappointed. Although the host was handsome and good at stirring up enthusiasm, there still weren't so many around. The other miniature sites were good to me, who hadn't went to any other country.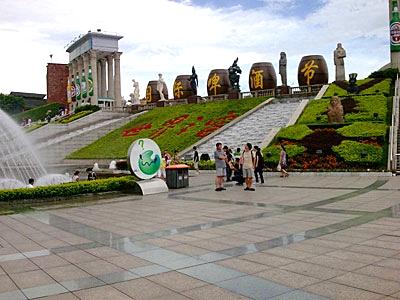 window of the World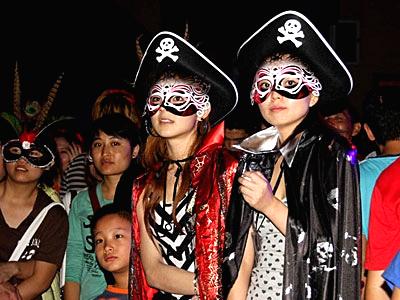 window of the World
Last, I want to say a few words about my impression of Shenzhen. It is a new city, which was built after the Reform and Opening up Policy of 1978. So its urban planning is better and there was no shabby building. Also, there are no local people here while everyone is local at the same time.