Dali Bai Guesthouse - Fu Chun He
Also known as Yin Villa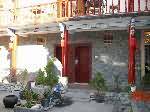 Situated on the foreigner's street of Dali old city, it is a very cosy, friendly and family type of guesthouse. If you are the shopping type, you can go in and out like 20 times a day when you dont want to lugg your goods for the whole day. Also getting to the cafes at night is convenient.
The room are pleasant with the most uinque bathroom in dali. You should go and see to surprise yourself. They have broadband internet connection in the room if you happen to bring your own notebook computer. In the compound there is a 100 years old well and smiple garden.
At the moment they still have the ordinary room for 30 yuan a night but soon they are going to renovate to change that to superior rooms at 100 yuans a room a night. So go and try it out, you will like it. If you mention my name, Mr Lim, you might even get a discount.
I would normally stay on the second floor as there will be more privacy, and yes, tis is the place for privacy. But the water pressure is better for the rooms on the ground floor. I personally recommend this joint. If you have a group, you can literally blocked out the whole place, they only have 9 rooms! The phone number of the boss is Mr Yin Shu Ze, Mobile 139-87220328.

More
Dali Travel Reviews