The wonderland in China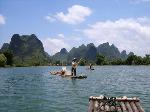 Finally get chance to put all my thoughts and feeling appeared while traveling to Yangshuo of Guilin in words today.
Yangshuo is a wonderland in my heart, haha... Yes, alice was in the wonderland named Yangshuo this summer.
My trip of this beautiful town started with Western Street, as you know, it's a small but peculiar street, I rarely go shopping in Pedestrian Streets while traveling, 'coz they're almost same in every cities. But as for walking around here, it's definitely worthy of your time and energy.
I found a motel named "Gui hua" by the side of the street to stay, a clean motel with reasonable price, and the most important thing is the owner of this motel and his family who are local people live on the 1st floor which means that I could get more authentic information about the place I was going to visit and learn some local customs that you can't even heard from luxurious hotels.
I took the bamboo raft to float on Yulong River for a whole afternoon on the first day. I was glad that I did so many different things at the same time, watching the beautiful scenery while listening to the sound of the waves, chatting with the boatman while drinking the frozen beer… I was really enjoyed in the peaceful and relaxing time. Being idle and even lazy sometimes is not too bad, right? Haha…I was wondered whether the boatmen feel very excited like we tourists every time when meet the river, or just get used to it and feel nothing new. Everything is new per day, I do hope they can experience something new and have more fun each day while being with such a nice place.
To be honest, I guess I'm the worst bike-rider in the world, my route of riding is always zigzag, thanks to the attractive scenery around, nobody realized that, haha…Either did I. Put the sun block away from me, just enjoy the sunshine and fun of the sports, let my skin get darker which is more closer to nature.
I'm a night owl. Travel to a new place, but spend the night in hotel? No way. Bar is the best choice, I always believe in that. But in Western Street, you have too many choices because of too many bars here. I visited many bars one by one by ordering one bottle of beer in each bar, and finally settled down in one bar named "If", it's 'coz I didn't think I could drink more, but also 'coz I like this bar.
I'm not sure when I will go back to Yangshuo to visit again, but definitely I'll do it soon as long as I have enough time.