Blue Blue Beihai
Living In Unintended Style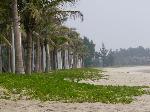 I plucked the book from the wicker rack hanging on the wall of my beautiful hotel toilet – a picture of the azure sea on the front cover and four Chinese characters resplendently proclaiming: Blue Blue Bei Hai!

This was the place I'd dreamt of seeing for so long – the legendary little tropical alcove of southeastern Guangxi where I supposed lazy old colonial promenades stood serenely behind rows of coconut palms waving gently in the sea air alongside the soft white sands of Silver Beach. Beihai is said to be China's answer to the quiet, undeveloped tropical beaches of Malaysia and Thailand; warm and fresh with sparkling sapphire-blue ocean tides for swimming in and feasts of seafood. I'd imagined finding an old wooden hotel by the beach front, sipping fresh coconut juice and lazing in the sunshine.

Somehow, stepping off a tired locomotive in an open, blocky train station with dry-grass lawns and paddocks interspersed with old concrete apartment blocks wasn't what I'd had in mind. But then most Chinese cities have been through a drab, plain-vanilla soviet style building period, and train stations do have a habit of making any prize destination seem bleak and unappealing. Beihai's no big town, but the train station's nowhere near the seafront, and so I had every hope that the rest of the city would turn up some pretty corners to revitalize my coconut fantasy.

But it was already evening, and I had a heavy backpack overfilled with the tin Vietnamese coffee filters I'd picked up during my trip south, and I needed to find a place to dump everything as quickly as possible – hopefully a reasonably cheap hotel. However, the edition of the Lonely Planet I'd been reading on the train had squashed my ideas of a warm, friendly hotel by the sea – prices for accommodation in Beihai were reported to be on the rather expensive side, and I knew it would be a struggle to find something in the vicinity of a hundred RMB.

An annoyingly chirpy taxi driver picked me out as I stepped through the station gate. He tried every way of tempting me into his cab – and I would have succeeded in brushing him off were it not for the fact that the map I was able to buy from the local drinks booth had confirmed my initial impression that a cheap bed was nowhere within walking distance of the station, saving a grotty Railway Staff hotel – and my bags would not fit on a bus.

As I got in the cab, I explained to the grinning and talkative Mr Zhou that I just wanted a cheap room, and gave him my hoped-for price range. He promised he'd try, but warned me that the average three-star hotel in Beihai would be closer to the two hundred mark. He promptly drove me a mere kilometer to an establishment called the Li Yuan International Hotel, where he'd obviously been intending to take me all along.

There were three stars on the board behind the counter, but in every other respect – including price – the place was a little flashier than what I'm used to on my regular Chinese budget-travel road. I politely apologized to the girl at reception for wasting her time when the cabbie, eager for his commission, encouraged her to give me a room for RMB238 – much more than I'd wanted to pay, but I was tired, and just let it happen.

So there I was, half an hour later, wallet a lot lighter and enjoying a far prettier bathroom than I actually wanted. And there was the Blue Blue Bei Hai handbook, filled with marvelous pictures of the city outside, and myself wondering if I had any time left to enjoy it in the twilight hours of what had been an expensive day.
Seafood Extravaganza

I've said I'm a vegetarian, and that extends to seafood – but I felt compelled to check out a highly recommended seafood restaurant area called Waisha Island on the harbour because it had been described so well in my Lonely Planet. The place was portrayed as being a swamp of lively stalls brimming with delicious fish delicacies of every variety – and I was sure I could enjoy the mayhem and a good vegetable approximation of the fare on sale.

The ever-hopeful Mr Zhou was waiting for me in the foyer, hoping to tempt me into purchasing a tour for Hainan Island – I wasn't really thinking of joining a tour group, but Mr Zhou has a charming persuasiveness about him and I eventually relented and agreed to at least check out the tour agency he recommended in exchange for a cheap taxi ride to Waisha Island, which Mr Zhou told me was nothing like what I had been led to expect.

He was totally correct – once I'd survived the pressure-sell tactics at the travel agency, I was dropped off on a spit of reclaimed land – Waisha – and stood in the darkened car lot facing a row of ostentatious, bright, empty restaurants watching as a horde of touts began to run towards me to collect what they feared might be their only diner for this evening.

Waisha may well be crowded and fun during peak travel times, but I had arrived in Beihai during something of a lull and the place was dead. Furthermore, my hopes of a cheap meal were dashed when I browsed price boards – the cheapest thing on the menu was prawns at RMB65 per 500g – extortion for the budget traveler. There was a Western joint too called Tommy's, offering cheap beer and backpacker food – but it hardly seemed an inexpensive option, and so I walked along the featureless dockside for a few moments before heading away from the place – whereupon I was once again collected by the predatory Mr Zhou. He took me halfway across the city to a more reasonable place where he could get a commission, and for which he could charge me a nice fare. That was my sad welcome to Blue blue Beihai – on the receiving end of a cheerful rip-off.
Grey Grey Beihai Skies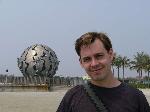 You can't blame a city for its weather – except for Beijing – but when I awoke in my semi-luxurious room the next morning to overcast skies, it was hard not to feel somewhat disappointed by the broken promises of tropical blue. I went back to bed for awhile instead, flicking through the Beihai tourist book, which cheered me up immensely, and decided to at least make the best of it by gathering my possessions, getting them into storage in preparation for my planned trip to Hainan Island, and then getting myself down to Beihai's enticingly named Silver Beach.

The one thing that Beihai has that ensures a steady influx of visitors is a number of daily services to Hainan. Most guide books only list the flash Japanese vessel that leaves from the northern wharf at 6.00pm daily, but a second port near Silver Beach has a few more services for the same price, with one departing at the more convenient time of 9.00pm that actually arrives at Haikou at a more forgiving hour of the morning – 8.00am. RMB90 buys travelers a soft seat, but there are a number of dorm options available with air-conditioned cabins at the top end for RMB240 a head.

I took a taxi to the wharf – again suffering a tirade of unrequested travel information that revolved around me being encouraged to hire the driver's car for the day (I declined) – and purchased a mid-range ticket, leaving my bags at the counter (RMB2 per bag). Once I'd managed to be rid of my second pestilent taxi driver, I finally had the chance to get out by myself and make the 10 minute walk to the beach.

Silver Beach made up for everything, and by the time I had safely arrived beneath the seemingly endless stretch of tall palm trees at last, I was delighted to take some time to look out over the water, which although in the cloudy weather was far from azure, was at least a rich, gluggy aquamarine. I took off my shoes and tested my toes in the soft, beige sand – quite marvelous – and began my slow walk along the waterfront.

This was one place where I was glad to be one of the only 20-odd people on the coast – quality beaches like this one are rare in China and are often swallowed up with half-naked bodies in their thousands. Here, the only people who had come to enjoy the sun were huddling beneath umbrellas to avoid being darkened by it, and the gloriously soft sand was my own domain for a while. I wandered across to Beihai's iconic artistic installation – a giant metal globe encircled by depictions of dancing naked women – and sat again watching the waves. The coast was choppy in the dim, windy weather, and the air was as warm and wet as soup – but for all its variance with my hoped-for, ideal shoreline experience of bright blue Beihai, I found it fantastic.
TRAVEL INFORMATION
The Liyuan International Hotel: 利源国际大酒店
Address: Beijing Lu, Beihai 536000, China
Phone: (07790) 322 0688

Silver Beach : 银滩
Opening hours: 8:00am to 5:50pm

Many travel guides give an admission price for entering the beach area. I didn't see any ticket office at all, but perhaps if you go through the main gate or with a tour group you might be charged, unless the fee is included with your tour price. All of the locals I met in Beihai thought it was very funny when I asked if there was a price for the beach - and when I got there, I could see why. There's a long road extending all the way along the beach front - just walk straight towards the water. Of course, you can go to the beach outside of the opening hours given above.
1.
Bus trip
JOKERMAN2007 from CN
Jun 28, 2006 12:06