The Old Boats of Beihai
Beihai and the Sea Trade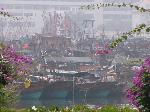 Guangxi was already a charming province before it acquired the extra territory of Beihai from Guangdong in 1954 so as to provide the province with a port. Guangxi is the home of the rice paddied, mountain studded Guilin and Yangshuo; it is the tropical gateway to Vietnam and lies snuggled up to the vibrantly colourful Yunnan. The addition of Beihai to its list of credentials has ensured that the province now counts as one of the most varied, interesting and beautiful parts of the country.

Most people don't think of tropical beachfront scenery when they think of China – but much of China's southern coastline meets with the warm ocean and cities like Beihai are as much party to the equatorial sunshine belt as is any country or tropical island farther south. I had begun my day of sightseeing in Beihai right on the city's premium sand strip – Silver Beach – and after having taken the proper time to laze in the temperate sea air, I reluctantly began to brush the fine sand from my sandals and examined the local map for my next move. Sadly, Beihai's tourist map is awful – belonging to the school of corporate-financed maps where businesses pay to have their office building listed, and tiny photographs of it positioned roughly where they might be found. As a result, the map is a collage of boring office towers with tiny, almost unreadable street names, and I couldn't really find anything special. However, I had read that a district called 'Old Beihai' exists somewhere in the vicinity of Zhongshan Road on the opposite coast – 15 minutes by car – and so I decided to head there and see if I could find it.

Despite being harassed once again by impolite taxi drivers at the bus stop, I caught the number 7 bus all the way to Beibuwan Square – a refined public park in the middle of a group of malls and nicely developed high-rises, making it more or less the centre of town – and after having an ice cream to cool down (Beihai is a very hot place) I strolled down towards where I figured the old district must be.

Beihai is a port that began as a foreign concession, and so many of the old buildings, I had read, reflect the architecture of the south sea traders – predominantly based on the shophouse model which travelers will see everywhere from Singapore to Guangdong. Based on a marriage of European and South Chinese building traditions, shophouses are usually built in long, seamless rows and are very tall and thin – sometimes only about as wide as one room, although in length back from the roadside they are far larger. Usually, the ground level is high-ceilinged and almost empty, allowing for a business to be operated from within, and tall, winding staircases lead to the three to five upper levels, where a whole family can live comfortably. Everywhere that Chinese people settled in Southeast Asia to engage in international trade by sea, they lived in shophouses, which allowed them to prosper, remain near to each other, and stay comfortably in confined ground areas.
From Another Time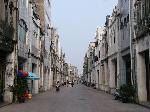 I arrived at Zhongshan road and immediately recognized the shophouse style in the buildings leading along the street away from the corner – but as I wandered east along the road, I couldn't see any evidence that these were old homes at all – I wondered gloomily if Mr Zhou had been right the night before when he told me that he thought that all the old buildings in Beihai had been knocked down long ago. Fortunately, I persisted and when I found a side street leading north towards the waterfront I decided to try it out. It wound a little way and then deposited me right on a stretch of road that looked so peculiar I couldn't quite believe it was real.

For kilometers in both directions, a tight, seamless row of genuine century-old shophouses extended along both sides of the road, making the entire street look like a grey canyon of hybrid European-style house fronts. The road itself was a broad avenue of clean-swept flagstones. All the homes were still in use, and shopkeepers were busying themselves in the ground floor business chambers of each of them, and sounds of families going about their daily activities were discernable from the upper levels.

One particular shop, notably whiter than the others, had the word 'Maruichi' embossed over the entrance – a sign at the door explained that this was the store of a Japanese medicines trader who had lived there earlier in the century. When tensions over invading Japan heightened, he was suspected and murdered – probably wrongfully – and this event was used as an excuse by the Japanese army to occupy the city.

The occasional alleyway led off at right angles to the old street, and when I tried one I was again rewarded with a stunning view of the harbour. I spotted the eastern end of Waisha (where I'd decided against eating the night before) where stood a grand fresh fish market; the harbour was correspondingly filled with old fishing boats, including many small houseboats busy with fishermen, and alongside some old hulks lay washed up on the sand. Like many harbours, this waterfront at Old Beihai was a jumble of lazy activity, boats slowly rocking as semi-industrious people went about their salty, bitter lives on board. What was special about this place was the obvious look of an age gone by, both in the style of the boats and in the architecture of the harbourfront homes.

I'd read that a Vietnamese refugee camp was somewhere in this area, but after consulting a couple of bemused locals I found that my information was incorrect, and that I would need to cross back to the southern harbour to find them. With the intention of investigating that community base, which I had heard was partly supported by the Chinese Government and the United Nations, I set off back towards Silver Beach.
From Far Away They Came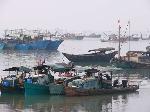 Most English speakers will have heard the term 'Boat People' – referring primarily to a wave of immigrants to the United States from the late seventies – Vietnamese people who crowded into boats and hoped to enter the US without detection. What many people do not know is that those Vietnamese immigrants were actually Chinese who had long since settled in Saigon, and who were forced to leave Vietnam when the government seized their land and expelled them in a move that was described as cleaning out the bourgeois elements of society – actually, the Chinese.

Some of them did get to the States, others were turned away and many made their way back to their original motherland of China to seek refuge. Those that landed at Beihai received protection given by the Chinese government, and a reserve was set aside for them to construct a new life in China. Because overseas Chinese are generally referred to as 'Hua Qiao', the area was called the 'New Hua Qiao Harbour' and they were granted the generally autonomous district for permanent resettlement.

It was once a shantytown, but when I got off the number 5 bus in the Hua Qiao district, I found a very developed suburb buzzing with commerce. The market area I had arrived at was bountiful and fascinating, definitely reminiscent of markets in Vietnam, but not so different at all from local street markets in China, perhaps indicating that this refugee camp has already integrated itself completely with local Chinese society. I talked to a girl selling fruit who confirmed it for me.

"We're all Hua Qiao here", she told me, although she also told me she was born in Beihai. "Nobody really speaks Vietnamese, except for the older people". It stood to reason: this community has existed for thirty years now, and most of the population, after all ethnically Chinese in the first place, would consider themselves to be completely Chinese regardless of the fact that they still referred to themselves as Hua Qiao. Their parents, who would have originally spoken Chaozhou or Hokkien Chinese dialect as a mother tongue and Vietnamese as a second language, would naturally see little need to pass on the Vietnamese language, and their children would have learnt Mandarin at school.

Indeed, the only trace I could find of Vietnam was a restaurant on the main road in front of which the doorgirl was dressed in a traditional Vietnamese Aodai, as opposed to the normal Chinese Qipao. I had dinner there – all the guests were sitting in private rooms, the names of which were all famous places in Vietnam. I guessed the older patrons could relax and remember childhoods spent in the southern country, where they were considered foreigners then. Their parents would have left China during difficult times at the close of the Qing Dynasty and settled in Vietnam to prosper in business – a hard-earnt wealth that was taken from them when they were ousted from Vietnam. Now, they were back in the country of their ancestors, and their children were once again realizing their roots as true citizens of China.
TRAVEL TIPS
Bus number 5 goes between a street not far from the Old Quarter directly to the Hua Qiao Village - you can get off in the markets or at the harbour. The route also conveniently passes Beibuwan Square, the centre of town of sorts.

It's not advisable to get to the Old Quarter via Zhongshan Road as I did - the alleyways connecting the two are few and far between. Take a direct turn from a main road into the street, which is parallel with Zhongshan Road and one lane closer to the harbour - check a map to be safe.

Taxi drivers are unconscionably persistent in offering their services - it's cheaper to hail cabs and mototaxis (motorbikes) between stops than to rent a cab for a day. Mototaxis should be cheaper than cabs.
2.
Bus trip
JOKERMAN2007 from CN
Jun 28, 2006 12:06