My Trip to Badaling Great Wall
Having known about China Great Wall since I was a little kid, I couldn't wait to paying a visit on my first holiday when studying here. It was a China National Day Holiday. Got up early that morning and took subway2 to Jishuitan. My friend told me it was very near Deshengmen where one can take bus919 to Badaling. However, I got lost and spent quite a long time to find it, so better to bring yourself a map if your Chinese was not good enough to ask the way. The trip to Badaling was a little long, about 2 hours, but the scenery was beautiful. Finally, I arrived at Badaling. Heard about that people would crowded into the Great Wall during holidays, but it was far than my expectation, it made me wait for about half an hour to get a ticket. Thinking about people at the ticket office, then I should not have been surprised by the crowds on the Wall. Remind me of a Chinese saying: people mountain people sea. You can see the picture I have loaded with this review. In this case, another advice is trying not to visit the Great Wall in holidays.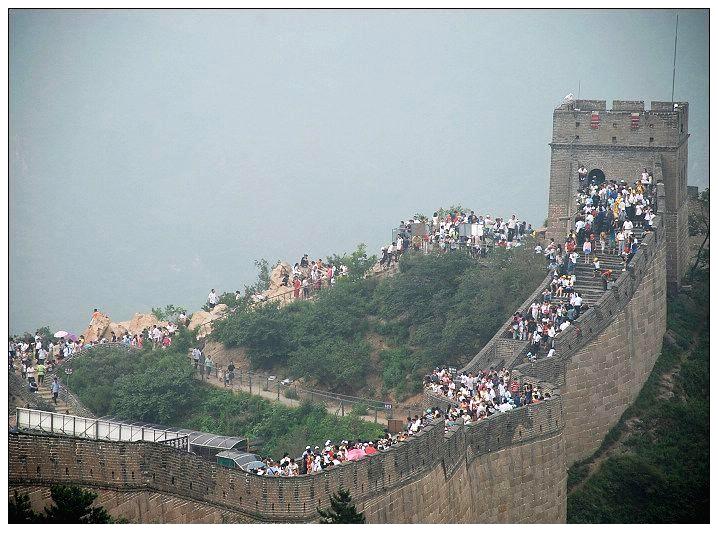 Attracted by the Great Wall, I began to explore the mystery of the Great Wall. But shoulder by shoulder with so many others, it was not so satisfied. Fortunately, I was not so tired after climbing the north part and had stepped onto the south part, for there was fewer tourists here and I could freely had a seat and enjoyed the scenery with the breeze fanning on my face. Since it was autumn day and some leaves had turned red or yellow, the scenery was very very beautiful. Amazing Great Wall and beautiful scenery, such a great thing to be here on the great Great Wall!
Outside the most south beacon tower lied the unrepaired walls. Although they were not so good looking, you could feel the history and sadness here. I strongly recommend you to have a look if not so tired. About going back, I just took the same bus919 at Badaling where I got off. Do not go into the parking lot to take the 919, they are heading for Badaling Wildlife Park, not the Beijing City.