OVER STAY; Visa and number of days allocated. Keep track of the days!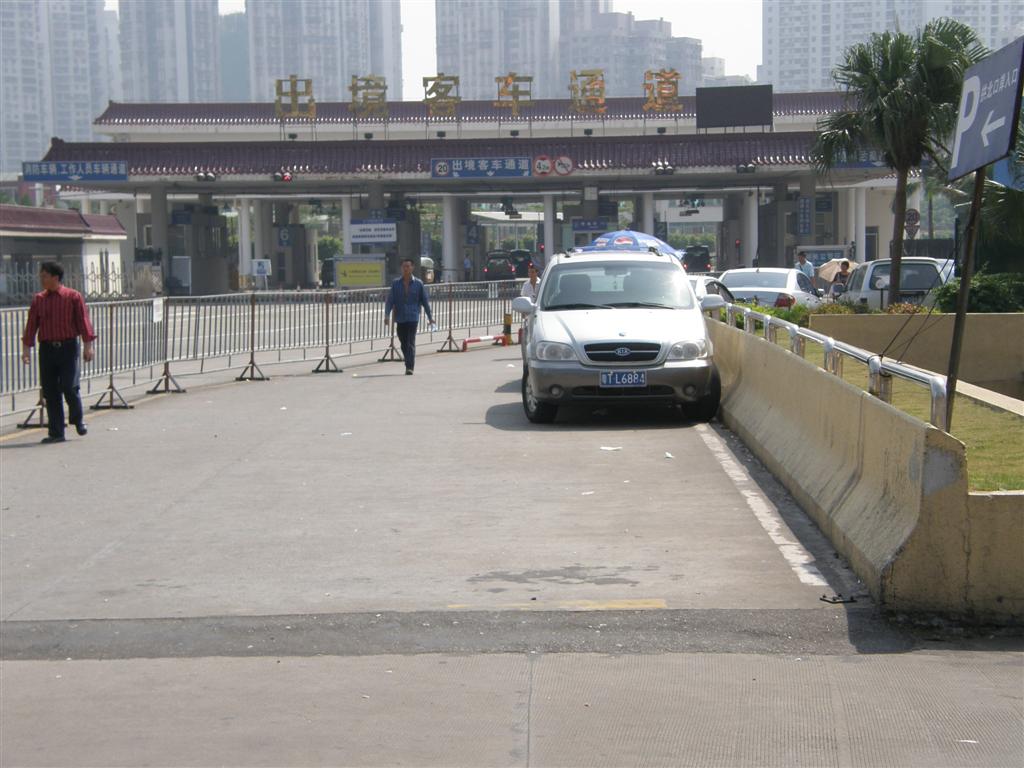 PA230174
When I lived in China for nearly two years I became a careless by days. I had a visa for one year with multiple-entry. The restriction that applied to me as a tourist was, that I have to travel out of China within 90 days and then when I returned I had 90 new days to stay in China. The first year I was only 60 days, but there was no problem because I lived in Zhuhai, a city on the border to Macau. It was just to note on my calendar "date and Macao". Then after two months go to the "Red House" which is the border crossing to Macau and was looking for the queues for foreign visitors. There are special lines for residents in Macao and Hong Kong need only show their ID cards. Chinese have a lot of queues. People over 65 and those who are disabled and need help have their own queues.
It usually takes a while to go through and have been taken with that part of the "health declaration," the age of entry into China, it is smooth. Otherwise you have to hunt out and forms and fill in and then you get to wait in line again. There is a lot to be filled in and I've picked me the forms for both the PRC, Macau and Hong Kong and as I filled out at home, so of course when I should go for stamping. When we walked from China to the passport control in Macao and the left "health declaration" and received the stamp of the Macao recorded in the passport, it is a long time to go to the first city street. Many of us who label residence is a short cut back to "exit Macao". Since only through passport control and everything is ok for 60 days again.
The stamping went very well the first year. Then I became more reckless. I had been to Sweden and got a new visa for one year. Time of the first "stamp" in Macao was approaching. The day I noticed that the appropriate date for this hearing. It was really nasty rain that day and no fun to go out in. I just thought of 3 months A 30 days = 90 days. I checked the passport and date. Yes, I can go tomorrow.
The day after, it was good weather and I asked my wife if we would look a little more in Macao together. She took time off and we went from Zhongshan to Zhuhai and put us in a queue at passport control. Though she took the line for foreigners and became a "picked off" from the line because she have a Chinese passport. The "Chinese" went faster and we got to the controls at the same time, stuck in queues.
I show my passport and there was a different reaction than usual in the verifier. My wife had come through the Chinese passport control and noticed that something was wrong because they are called supervisor. They say that I have "over stay" one day and have to obtain new visas. I point to the date and say tomorrow is 90 days. He laughed a little and said I was not the first foreigner who miscalculated the days. "Look," he says, "November has 30 days December has 31 days January has 31 days". It's been 91 days since you came to China and it is a day too much. My wife had "crossed" stamps and had to wait for me. I got a mobile number which I would call to arrange a new visa and went where I told my wife: "no problem, it'll work out so you can go to work." There was deceiving myself! The problems had not started!
I went to a quieter part and rang the mobile number I got from super-viser. Well, then the problem we can probably solve, said the voice, which hotel you stay at? where do you live? Well, I live with my wife in Zhongshan. Then you turn to pass the police there because you live there. -I have a tourist visa and it ought to be arranged here in Zhuhai? -No, ZhongShan.
I went to Zhongshan and passport police there. Paperwork. They had to contact my wife and found out that she was born in Wuhan. You can ride to Wuhan (1200 km to the north) because your wife comes from there. I tried that I was a tourist again, but lived with my wife in Zhongshan. "Are you registered and registered as living at that address?" No, it was not good.
The next day was my wife having to pass the police. Much discussion there. Then she went to his bank and later we went to the local police office. There was a lot of nice people. My wife had the paper from the bank showing that I married took half the apartment and we had several papers from the local police, where a couple of them were very interested in table tennis. The swedish table tennisplayer Jörgen Persson was in a tournament and a lot of boat "Götheborg" and the thought of Sweden and Swedes.
Back to the passport police to show papers and documents, the value of the apartment, my wife's business, and more. I could therefore get a short-term visa for five days, but it had already gone one day and it would take three days to process. Furthermore, I would leave a despositionsavgift of 7000 RMB and show that I had money to buy a ticket for. Since I have to leave China to go to Gothenburg and to obtain new visas.
I went to ICBC, large branches, where I have been a few times and even met a guy who worked there when we were in the pools and fitness swimming. There was no computer hassles when we would transfer the money into a deposit account, so I took them out and brought to pass the police the next day. It's okay, now we know that you have money and do not need to deposit to the account, he said. But, where is your ticket to Sweden? The I must have because otherwise you get no exit visas. Found a bad trip, just overpriced. Check online with Sweden and found a cheap seat. Would pay with the card, then I would have taken too much of three days and could not pay by card. Called my brother in Sweden so he could buy the ticket for me and mail back.
To the passpolice, who wanted the original ticket and not the one I printed on my printer. My trip was from Hong Kong to change planes in Beijing. "Your visa is only valid for departure from China," "You must go directly to the airport and get a one-day transit visa allowing you to change planes in Beijing. We will try to help you with some phone numbers and an explanation from us."
Nervous days before I went to the passport police. Wait. Wait and when they would close and I was almost alone accounts there (more than 2 million residents in the area) got my passport and exit.
A short introduction piece appeared. "Go now directly to the airport to get new transit show that costs around 800 HKD." The next morning was the first bus in the morning to Hong Kong. It usually takes time through the border crossing and then continue to Wanchai, terminus for the bus. Other bus through the tunnel to Kowloon, to the hotel with check-in at the 14th I was previously and had put it in the reception area (lived there several times before). Then off to the Hung Hom railway and bus stations in Hong Kong. Bus A21 to the airport. Taught introductory note. Here it is closed now, you can go down to Wanchai and I hurried down to the MTR and into town again. Taxi says this somewhere and then ask and ask and I got right. There was a queue outside! This was less than a week to Chinese New Year and it's people who will go anywhere. After nearly an hour, I came up to the next queue and queue. I tried to find shortcuts and asked all the guards and staff and so did everyone else I suspect.
In front of the door, I notice that it takes about 3 days due. New Year, but if I can come back tomorrow at 10: the time they would see what they could do. "But I say and show your ticket, the plane is of course before 8 am in the morning" Then you have to buy a new ticket, he said, and so was the conversation ended.
I went out and thought maybe it is possible to reschedule in any way. Asked by Air China and they had their big office next door. There and told me my visa problems and reservations, and options for rebooking. She said: "I think you have 24 hours of transit at the airport in Beijing and as you travel with us both perspectives, I will check up more, how you have time to wait." No problem I said and was very well the there. She came back after a while and said, "my colleagues say you have 24 hours of transit, but now I call Beijing and our staff there. It knows better what it is like in Beijing." More tea and biscuits and even now I know how hungry I was. When she came back she had checked into me and I got both her and her manager's card and my new tickets. In a moment, a fax from Beijing that you must show in our little booth before gater'na. You shall not go in there. You have had so much trouble that it is enough now. The fax came, and with further instructions, the same as she had already given me before.
Having thanked for all the help I took the ferry over to Kowloon and then a walk to the hotel. Showered by me "nervous" and went to MacDonald and bought both the chicken and dessutum my first hamburger in one year. At the hotel I just slöade, sleep did not go for the whole time was thinking "it might not work." At 3: the time I started to pick up and walked to the bus station. Asked a "night bus" on bus N21 and he said it does not go down this road but you can follow with a few stops so I say to where to get off. Decent, it was a quicker and cheaper route.
Hong Kong Airport, no problem and when I came to Beijing, it was close, I missed the Air China's small minidisk. Showed the letter from the fax machine and had to wait a bit ago, a guard and took my backpack and then follow with airline staff to the waiting room for Stockholm flight. Only then did it ok.
A daily "over stay" causes problems, it cost about 15,000 RMB was more cost-while it around this "over stay" there were real problems. I also managed to get home to ZhongShan at 20:45 on the Chinese New Year's Eve with the last bus from Shenzhen and the bus had been delayed already at exit and it meant we were 4-5 that caught the bus.
My advice is: Be sure to count the days. Stay a day too long is not recommended!
2.
Danger
BIGROCCO from China
Sep 6, 2010 21:15