Chengdu, my great escape
After many years of daydreaming, I had a chance to be in the holly land, Chengdu. In fact, I had known Chengdu when I was a high school boy from the great novel Three Kingdoms. The dreaming to see the capital of Shu Dynasty always burn inside me. Besides, a wish to claim the Emeishan to see Samantabhadra buddha also make me to come here no matter what happend.
My first impression of Chengdu is not really certain. Chengdu does not like Lijiang, Yunnan because of "un-colourful and borred sight". I have to say that because if you have a chance to be in Lijinag or any place around Yunnan, you will see the sight with very colourful landscape which is uniqued as South of China. Here we are in Norh of China where the weather is very cold and overcast during the winter. My trip in Chengdu is at the end of Dec 2012. However, Chengdu is really a Green City in my point of view. On the way to city, I can see a lot of uniformed people who pick up all the rabishes on the road and put them into the bin on the street in order to keep the road is always clearned.
Our hotel in Chengdu has good location. We can walk to most famous place of interest from here such as Wuhou Temple, People's Park (for teahouse - great), Tibetant street, and Jinli Ancient Street...as well as Chunxi road, biggest shopping centre in Chengdu. There are some good hostel for backpackder to stay in Chengdu namely Mix Hostel, The Loft, Dream Travel Youth...and Traffic Inn. The Traffic Inn should be a good recommened because of its location next to the biggest tourist bus station in Chengdu - Xinnanmen Bus Station where you can reach any place in and around Chengdu, event to Tibet.
In Chengdu the service of car rental with English speaking driver is also good, and we did have great great expericence with this through Mr. Homer, the car owner for our trip from Chengdu city centre to Panda Base - Leshan Grand Buddha - Emeishan with the cost of 1,300RMB without any hidden cost. Acctually, if you travel by bus and taxi for this routine, the cost should be mostly the same of because of quite long distance for travelling, that's why we decided to use car rental services. You can contact Mr. Homer as his cell phone number +86 13981819754 or email him via email inquiry@cars-rental.net - we highly recommend to use his services.
Panda Base is one of my favourist in Chengdu where I firstly see the super cuted Panda, and now I know that there is 02 types of panda called Giant Panda (like Kungfu Panda) and Red Panda (with Red colour with long tail). You may have great expericence here to play with Red Panda when they come to beside you and ask for food. However, pls do not feed them, we may kill them with your food. YOu can play with them instead.
Leaving Panda Base, we go ahead to Leshan City for seeing Leshan Grand Buddha. Im an architect, so I really want to see the biggest Buddha in the world and find out how they can build this from the begining as a mountain. As the history of the buddha, there is a monk call Haitong who first built this Buddha. He craved this buddha from the whole mountain in Leshan for the purpose of praying for the location. In fact, the buddha look out the Rivers where 3 smaller rivers garthered and creating very dangerous streams. Haitong monk wanted to create a buddha for praying this dangerous. During the period to crave the buddha, there are many stones released to the river and it lead to change the rivers streams. At last the rivers is very peaceful as a result. The Big Buddha is really big to such an extent that Buddha is moutain and mountain is Buddha. Let's go, see and get your feelling.
At the end of the day, we moved to Emeishan which located only 40km away from Leshan with 1 hour by car travelling. There is a greatest place to stay in Emei Mount is Teddy Bear Hotel. The hotel owner and his wife were known as Andy and Shirly who will provide you very warmly hospitality in Emei. The staff can speak English quite well and provide you all needed information regarding Mt. Emei and travelling around Emei and back to Chengdu. Mt. Emei is known as one of the Four Sacred Buddhist Mountains of China with high of 3,099m compare to sea level. One of greates landscape in Emei is Cloud See with the Statue of Samantabhadra Buddha on the top of the mountain @ 3,099m.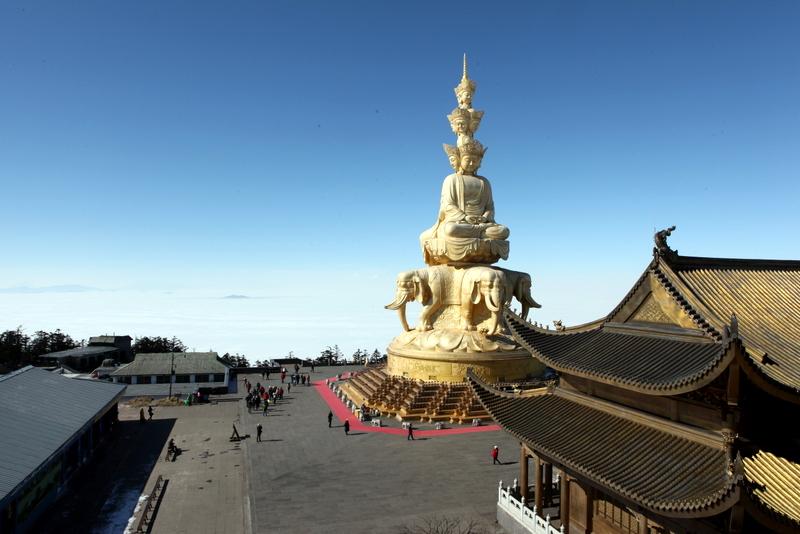 IMG_7522