Following Rita Li to Laoshan
Travelling Temptations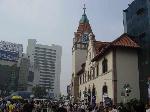 I almost never travel with a guide, but I'd have been a fool not to say yes to Rita Li. Effortlessly classy and feminine to the core, she enchanted men without promise and maintained her grace without compromise. Rita could still hold a man's attention even after she left the room, and yet was endowed with such unquestionable dignity that no man dared to attempt to take advantage of her singularly agreeable nature.

Best of all, she was a travel lover, the kind of woman who couldn't bear to spend a whole day indoors without feeling the sunshine or rain on her skin, whose heart was always somewhere out there on the horizon. She was an expert at the sport: she knew where to go and how to procure the best and least expensive tickets to get there, she knew the best way to travel across long distances quickly and cheaply, and she knew how to rough it without appearing ruffled – always managing to maintain her casual and inimitable radiance.

To have received a call from Rita Li was a surprise in itself – to be invited on a weekend trip with her – a trip for two, no less – was scarcely imaginable. However, there was that musical voice on my phone line, explaining that she really wanted to get out of Dalian for the weekend, and hoped I'd give her some company, knowing that I had a similar passion for travel – I was already saying yes before she'd bothered to explain – Rita had a habit of being thoroughly convincing that way.

It's said that there are four things that a visitor to the magnificent city of Qingdao are supposed to do to really be able to say that they have experienced the place – swim in the sea, eat fried clams, drink the local beer (now famous worldwide) and climb the coastal mountain Lao Shan. Rita had done all but the last of these and planned to take that evening's boat to Shandong Province in order to get there. Within moments of hanging up the phone my travel satchel was open on my bed and I was throwing my standard gear in it – one good thing about traveling often is that you get to know what & what not to pack, allowing you to travel lighter, without leaving crucial items behind. I was prepared in record time, and before too long was standing at the Dalian wharf waiting for Rita to arrive. I spotted her first – it was hard not to – a stripe of colour in a black and white crowd, carrying a bag that was half the size of mine and stocked with a travel kit that was twice as comprehensive – this was a traveler who would be very hard to impress.

Night fell, and before long Rita and I stood on the deck of the Dalian-Yantai ferry watching out at the silent coast through the sea mist of the Bohai Gulf. She seemed even lovelier in the night, and spoke knowledgeably of many things, and as I leant on the boat rail listening to her stories of ancient times and distant places I wondered if any man could count himself worthy of standing where I, for the moment, was lucky enough to be.
Traces of Germany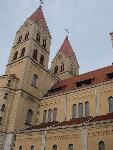 Qingdao under the grey blush of morning cloud, with its timeless European architecture and gentle Chinese grace was almost lovelier than my travel companion. We had arrived right in the heart of Qingdao's old colonial district – the area was first developed into a modern city by German colonists a century ago, and their legacy has given Qingdao a reputation for classical charm. I managed to convince Rita that it was worth looking around after breakfast before we headed out to Lao Shan, and within the space of half an hour we were already strolling along European-style lanes headed for the structure that dominates the Qingdao skyline – the St. Michael's Cathedral.

Every visitor to Qingdao spots it – a great hulk of a church capped with two tall spires and completing the illusion that this is not a Chinese destination. The faithful have been worshipping here since it was built in 1934 and even managed to protect it during the cultural revolution that destroyed so many Buddhist temples – the twin crosses on the peaks of the spires were buried by the churchgoers to protect them during the time of the revolution and reaffixed later.

I've become so used to wandering through temple courtyards and gazing up at grotesque Buddhist idols that walking through a Christian church seemed quite unusual – odd, considering that I grew up attending such churches – and I couldn't help but notice the similarities between the two. Catholic churches in particular are big on idols, and the Twelve Stations of the Cross – features of Catholic churches where scenes from Christ's life are shown in succession – were uncannily like similar sequences of pictures that depicted the life of the Buddha I've seen in many temples from Malaysia to here in China.

Rita felt the similarity too, and despite being a Buddhist herself, felt comfortable with kneeling before the altar for a minute alone while I admired the stained glass and the architecture. She smiled warmly after she'd finished and signaled for us to leave, and we quietly walked down towards the seafront where we planned to catch a tourist bus to Lao Shan. I asked her what she'd asked for when she was praying – she laughed. "Nothing", she said. "I was just saying thanks to whoever looks after me. It's what I always do when I visit the temple."

We spotted – or rather, were spotted by – a tour van to Lao Shan when we went to pick up ongoing tickets at the train station, which itself is constructed according to Germanic architectural conventions. The touts calling from the bus doors were offering comprehensive tours of Lao Shan and nearby temples for fifty yuan each – I was too much in a good mood to be walking with Rita to be wary of tour services that try to find you rather than let you find them, and so broke my travel rule and agreed – and the pair of us got on board. It wasn't to prove the best of choices, but it was a quick way to ensure we were on our way.
Want to Buy Anything?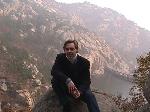 The tour guide industry is extremely competitive, and tour guides themselves rarely get paid well. The way they most commonly make up for a shortfall in their income is by taking tourists to shops en route, where they can receive a kickback on sales and claim an introduction fee even if the customers don't buy anything. Bad tour services take visitors to stores as a priority over the destination, and unluckily this was the kind of tour we'd inadvertently taken. It takes an hour to get from central Qingdao to Lao Shan, but our bus took over two, stopping along the way to be led through pearl, shell craft and dried fish shops. When we arrived at the foot of the mountain at last, we were told to be back at the minivan within an hour or it would drive off without us – meaning we wouldn't even have time to get to the top where I'd read beautiful temples awaited.

Rita was unfazed, happy enough to be 'on the road', and so we started our ascent. Lao Shan is China's only famous coastal mountain, important not only for its natural beauty but also for its history – for it was here that Taoism really took root, and many ancient temples and monasteries were constructed here at the religion's height, including an inordinate amount of nunneries – seventy-two in total. Our guides had thoughtfully taken us to an area away from the most interesting of these and brought us instead to Beijiushui, which is a primarily a place to enjoy nature, which we resigned ourselves to do. The area is famous for a river that curls around Lao Shan's highest Ju Peak with nine distinct bends before the water is bottled and sold as mineral water (claimed to heal a variety of ailments) or used to distill beer.

We ascended the easy climb cheerfully and before long had a good view of the sea from a great height. Lao Shan's odd rocks are almost cartoonish, rounded like bubbles, and the view over the water seemed equally posed – as if the mountain were somehow a painting of itself and we ourselves were part of it.

We arrived right on time for the minivan at the bottom – although were scolded for being late – and headed a short drive away for a visit to the beautiful Taiqing Temple. It was the only temple we were to get to see, but the grounds were spectacular enough to make it a highlight of the trip – leaves of deep yellow, green and red appeared to have burst from the trees, strands of willow and ivy fell across the old stone walls. A lone monk played his flute and smiled at the tourists wandering through the beautiful temple whilst his brethren attempted to sell trinkets.

We had a few moments to enjoy the place – Rita looking like a goddess, her smile a perfect posture of quiet peace – before the tour guides swept us away again to a teahouse, where they would encourage us to sample – and hopefully buy – some expensive tea.