<A> Travelling in My Favorite City
Arriving at the Green Island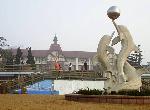 Though there are many beautiful and interesting cities across the expansive land of China, Qingdao with its unique blending of East and West is probably my favorite. Graced by timeless European architecture and modern Chinese charm, both the city and the people who live there exemplify an eclectic mix that makes visitors from all over the world feel welcome. The name Qingdao literally means "Green Island" and its attractive urban landscape is enhanced by the deep natural blues of the sea and the rolling green mountains along the coastline.

Located at the southern tip of Shandong Province facing the Yellow Sea, this key economic center serves as a vital Chinese port for foreign trade with its year round ice-free harbor. A small fishing village centuries ago, it has since grown to encompass a teeming population of 2.5 million residents in this popular summer resort and tourist city. Like many visitors who come to Qingdao, I arrived by train and was pleasantly amazed as I first stepped out into the large waiting hall of the distinctive looking train station. The Qingdao Railway Station is built in a European style with an eye catching octagonal belfry roof housing four giant bells. Transportation to Qingdao is quick and convenient since the opening of the Qingdao-Beijing bullet train in April 2007 that whisks passengers to and from the capital city in under seven hours. The high speed train route also links five other major cities with Qingdao including Shanghai and Wuhan to the south, and Shenyang, Changchun, and Harbin in the north. Walking outside onto the large paved courtyard surrounding the train station, I could immediately see the European influence in buildings all around the city center. This historic center exhibits the architecture of the old colonial district reflecting its title of "Bavaria on the East China Sea". Though the downtown area is filled with European facades, it still maintains its own special Chinese character where peaked buildings display large Chinese signs across the store fronts. Much of the cities uniqueness can be attributed to a brief seventeen year colonial period as a German concession from 1897-1914. After Japanese invaders were forced out, it reverted to Chinese rule in 1922. The local people are immensely proud of the unique ambience of their city even though it stems from what most would consider a historic period of humiliation.


Sights and Sounds in the City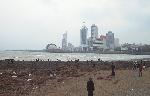 While exploring the sights and back alleyways on my own, I found Qingdao to be an extraordinary Chinese city with a very pleasant climate, mild temperatures and distinct yearly seasons. The major industries are trade, light industry, tourism, and oceanographic research. There is a very good public transportation system which makes it simple to get around the city and its outskirts. Long term bus passes are available for those who are staying for any length of time. Close to the railway station at the end of Zhongshan Road is Zhanqiao Bridge. This long pier was built in 1891 as a symbol and landmark of the city. It stretches a full 440 meters into the sea and provides a wonderful place to walk out and experience a sense of harmonious coexistence between man and nature through the ebbing tides, steady winds and endless sea. A short distance inland stand two large Christian churches which display completely different architectural styles. Qingdao Protestant Church was built in 1910 and is situated on a slight hill across from Xinhaoshan Park. The large clock and bell tower stands an impressive 39 meters high. With its thick yellow walls, inlaid granite stones, and a massive square shape, the church resembles an ancient German castle. The Catholic Church, St Michael's Cathedral built in 1934, is more gothic looking with two large stately domes stretching up toward the heavens. Inside I was impressed by the beautiful, large, stained glass rosette in the front of the church and many colorful religious frescoes posted all around the side walls. East of the Catholic Church, the old German Governors Residence is a luxurious garden villa on the south side of Xinhao Hill which now serves as a guesthouse. Food being never far from my thoughts, I made my way to Zhongyuan Gourmet Street to try out some local shellfish specialties like fried clams, scallops and small squid roasted on a stick all available for a very good price. The busy Longshan market is also nearby, packed with vendors selling fresh fish, fruit, vegetables, and many kinds of different spices. Zhongshan Park in the center of the city is quite large and well laid-out built around Taiping Hill. It is a nice quiet park with pagodas, reflecting pools and elaborate Buddhist temples located right on the grounds. Qingdao Aquarium is a popular stopping place for families with children, while the Navy Museum outlines the history of the Chinese navy, important sea battles, and displays warship models for maritime buffs. Each of these sights is accompanied by beautiful ocean views across the large red boulders and traditional Chinese buildings set along the cliffs.

Leaving the downtown area behind it is a somewhat long but pleasant walk along the coast to Badaguan Scenic Area where eight streets are named after great military forts of ancient times. Here classic European houses built before WWI are nestled along the quiet streets displaying large grassy lawns, wide boulevards, luscious pine trees and very little traffic. The European style red roofed houses and classic German architecture gave me the impression of having just stepped into the fairy-tale land of Hansel and Gretel. The mansion-like homes with their many windows are constructed of brick and stone including traditional German fachwerk to add tasteful decoration. The well-manicured green lawns with flat stone paths running through the gardens add a tidy and classy appearance.

The government has been working hard to introduce a series of city-wide improvements in preparation for hosting the sailing events of the 29th Summer Olympic Games in 2008. Much urban planning has gone into transforming the "Green Island" into a "Green City" by significantly improving the ecological environment. Shanty towns have virtually disappeared and new buildings are being designed to promote renewable energy. The use of solar hot water and power systems in homes and businesses has been increasing at a rate of 15% each year. Wind generators power the city street lights while seawater pumps and biomass gasification are used extensively. A major environmental cleanup of the harbor to get rid of the filthy, polluted water was undertaken before building the huge new state of the art International Olympic Sailing Center which looks out onto the dark emerald blue waters of Fushan Bay. Since the Watersport Center's christening in 2006 a number of regatta events have been successfully undertaken to demonstrate to the world that the sailing facilities in Qingdao are among the best in Asia.

Watersports are not limited to sailing and there are several good options whenever you are ready to have a swim in the sea. South of Zhongshan Park the Number One Bathing Beach is located conveniently close to Huiquan Dynasty Hotel. The Number Two Beach lies along a long beautiful curved coastline just on the other side of a small peninsula that juts into the Bay. Shilaoren National Holiday Resort is probably the most impressive tourist beach and was named after a prominent rock outcropping that resembles an old fisherman waiting for his daughter to return from the sea. With a nice boardwalk, picnic tables, chairs, showers, and rental equipment like jet skis and boogie boards, it is a popular place to get away for a day. Overall, the beaches are quite clean and lie on a gentle slope with clear water and soft sand, making them ideal for swimming. I also enjoyed the eye-catching statues of playful dolphins and other sculptures that can be found throughout the beach parks. Though a somewhat large city, Qingdao maintains a small town atmosphere and it is always possible to find a sandy spot or rock where you can be alone to enjoy breathing in the fresh sea air. A good way to spend a free evening refreshed by a gentle sea breeze is to watch the street artists drawing portraits of children in the parks while families take leisurely strolls together. As darkness descends the modern skyline twinkles from countless lights reflecting off the sea.


Special Places and Events
A good time to visit the city for those who enjoy parties is near the end of August when a raucous celebration with carnivals, concerts and ear splitting karaoke contests are held during the Annual International Beer Festival. The Tsingdao Brewery was established in 1903 to satiate the tastes of the German colonizers living far from their homeland. Since then it has acquired a world-wide reputation with the brew being exported to many countries around the globe. Other places of interest include the Eastern Tourist Area which has modern high rise buildings, huge shopping centers, and picturesque sculpture gardens with statues of people in traditional poses. Wusi Square with its large modern statue display of red interlocking rings is an interesting sight along with Ocean Park and the International Convention Center.

Thirty kilometers east of town, Lao Shan Natural Scenic Area is laid out around a famous religious coastal mountain with steep granite peaks. Climbing the tall and majestic Lao Shan with its beautiful views is an experience that should not be missed. At 1,133 meters Laoshan is known as the birthplace of Taoism and once housed a thousand Taoist priests and nuns within the monasteries that still dot the mountain slopes. Taiqing Palace is the oldest and largest remaining structure built around 1000 AD in a simple architectural style. There are many well-marked trails, and hiking around the large smooth piles of white stones to view fresh waterfalls dropping into clear pools is a memorable sight. The drive between the mountain and the city follows a good road along the rocky and hilly seaside where small waves gently lap the shoreline. Often groups of fishermen and workers can be seen harvesting small sea creatures or cleaning their nets with fishing boats anchored offshore in the background.

Qingdao is a remarkable city both due to the contributions of foreign occupation and the natural beauty of its seaside. I believe a visit to the "Green Island" before, during, or after the 2008 Olympics is a worthwhile trip for anyone.